Medical Director - Chief Executive Officer
Dr. Mark Carter, a medical internist with more than 17 years of experience helping people to not only look but to feel their best. Dr. Carter grew up near Pasadeña, CA and graduated from UCLA School of Medicine in 2001. He completed his residency at the University of Arizona in Tucson. He has been practicing medicine in Phoenix since 2004. Dr. Carter was previously the Medical Director for Tri-City Medical Associates, and enjoyed directing the day-to-day medical management of providers at four different acute care hospitals, and oversaw and implemented the strategic planning; conflict resolution, and direct patient care programs within those facilities. He has served as Governing Board Member and Medical Executive Committee Member at Promise Specialty Hospital, Medical Executive Committee Member and Co-Chair Quality Council at St. Luke's, and Chair Quality Council at Mountain Vista Medical Center. Dr. Carter has a strong work ethic, is clever, and an independent thinker. He is passionate about health and improving people's life through wellness. Dr. Carter is a co-founder of Aspire Medical Centers and serves as the corporate Medical Director.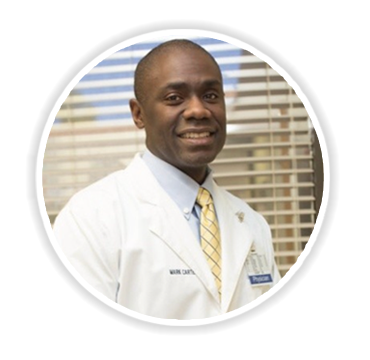 Patient satisfaction is Dr. Carter's top priority. Every patient seen by Dr. Carter is invited to a post-visit survey and to share a review. We are pleased to have a total of 15 reviews with an average rating of 5 stars.
"Great providers and staff!'"
"Very responsive, called for a rapid Covid-19 test and had an appointment within hours."
"Quick and easy appointment."
"Always excellent service! Would not go to any other Dr. Office in town. I went to several other offices before being recommended here"
'Very quick and efficient'
'They made it so easy to get a Covid test... very quick and I didn't have to leave my car. Thank you for making it so easy!'
'Everyone in this office is very nice and professional. Everything is handled promptly also.'
'Dr. Carter was attentive to my health issues and resourceful in coming up with a treatment plan to care for my health care.'
'Really glad he's here. Good Doctor. Staff are great.'
'Courteous and efficient and patient oriented'
'Dr. Carter listens, instills confidence, very personable.'
'Dr. Carter is very personable. He looks you in the eye, he is a straight-shooter and communicates well. I didn't have to long to see him either.'
'The only thing I would change is on site phlebotomy so I no longer need to go to the lab. The entire staff is amazing! Dr. Carter is great. Super smart and attentive.'